SC P
code:
SC P
- Whole Bovine, Pigs, Fleshing Machines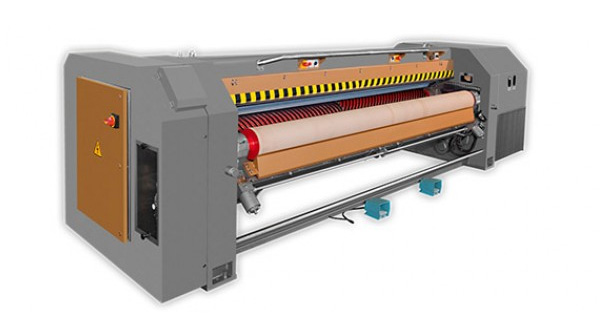 Model: SC/P 2200-2700-3200-3400

Skin Category: Pigs, Whole Bovine

Machine Type: Fleshing Machines

The fleshing machine model SC/P manufactured in version 2200-2700-3000-3200 mm. working width, has been designed to satisfy every requirements connected to fleshing of cowhides and pigs. The machine has a monolithic frame with stainless steel crankcases and sheets and cast iron rods. The sharpening truck and the truck bar are in cast iron for a better stability and precision during sharpening operation.

The machine is operated by a hydraulic gearcase which controls opening and closing of rollers and leather feeding.

Speed of leather feeding (from 26 to 65 mt/min., or more if required) allow a very good fleshing with high production.

The rubber roller quickly approaches to the blade roller, with a very smooth touch and adjustable pressure.

The feed roller and the rubber roller are controlled by two hydraulic motors with no chains, gearboxes are greased and contained in waterproof boxes.

The adjustable rubber bolster allows a good fleshing on the whole surface of leather.

Distance between rubber bolster and blade roller is adjusted by a handwheel placed on the right side of machine.

The SC/P fleshing machine is equipped with a safety device in accordance with actual laws.

If required, the machine can be equipped with automatic lubrication device and automatic opening system.

Automatic lubrication helps in saving parts from wear and reduces maintenance of machine.

The SC/P fleshing machine is suitable to process every kind of cowhides with high production and few maintenance operations.

The SC/D model is equipped with automatic demanuring device for cleaning of hair during fleshing.
Wishing to improve the quality of its products, we reserve the right to change the specifications of our machines without notice. The starting and output specifications are approximate and reflect an average production run, and they must be adapted to the actual working conditions.
information request form
Request information for this product
All fields in bold are required.