SC M
code:
SC M
- Pigs, Flanks & Calf, Baby Calf, Fleshing Machines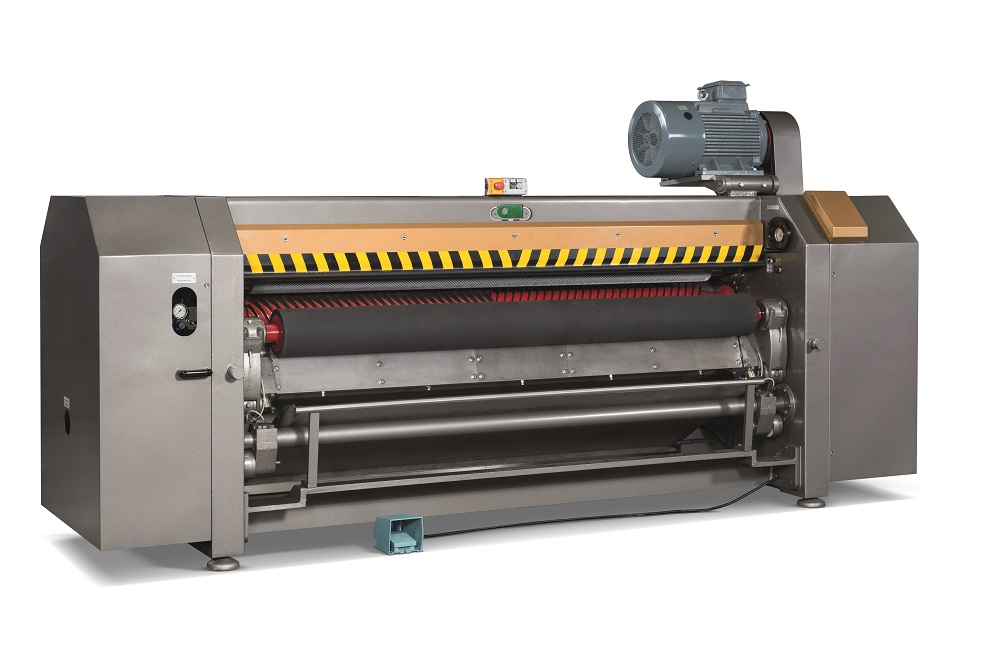 Model: SC/M 1800-2100-2400

Skin Category: Baby Calf, Flank & Calf, Pigs

Machine Type: Fleshing Machines
The fleshing machine type SC/M produced in the versions 1800-2100-2400 mm. working width has been projected keeping in mind the particular requirements connected to the fleshing of pigs, calfs and sides.

The machine has been realized in cast iron with timing case in fiber glass like also the rods.

The sharpening truck and the truck bar are in cast iron for a better stability and precision during sharpening operation.

The sharpening truck transfers on the bar through a reducer with electric motor and a chain ring-closed.

The carter and the external protection sheets are in stainless steel to resist the high degree of corrosion to which it is subject to.

The machine is operated by hydraulic gearcase which permits the operations of: opening and self-locking of the operator cylinders and leather extraction.

The speed of the leather extraction (from 26 to 50 m/1′ or more on request). Approachment of the leather supporting cylinder and the blade cylinder is very rapid, and the contact stage is very smooth and adjustable in the pressure value.

The rotation of the knurled cylinder and the rubber supporting cylinder is obtained by two independent hydraulic engines and spur gearing placed in a strong water proof cast iron container with grease lubrication and excluding the traditional chains.

The supporting cylinder has a thick rubber coat and the blade cylinder on rocking connecting rods absorbs considerable inequalities of thickness of the leather to work. You obtain regulation of the distance between the blade cylinder and the supporting cylinder by operating a handwheel situated on the right side of the machine.

When required, the machine can be equipped with a rubber bolster (bench all stainless steel) which improves fleshing of thick hides.

In this case, the fleshing operation can be carried out both by rubber roller and by rubber bolster.

The fleshing machine SC/M is equipped with a safety device legal in accordance with effective laws.

On request, the machine can be equipped with a hydraulic system which allows automatic lubrication (with normal grease), at programmed intervals of all moving parts reducing the wear effects and of a device for time opening. Briefly, the fleshing machine SC/M can satisfy all fleshing requirements for several types of leather giving high yield and requiring very little maintenance.
Wishing to improve the quality of its products, we reserve the right to change the specifications of our machines without notice. The starting and output specifications are approximate and reflect an average production run, and they must be adapted to the actual working conditions.
information request form
Request information for this product
All fields in bold are required.