RALCS45
code: RALCS45 - Whole Bovine , Half Calf , Combined Sammying & Setting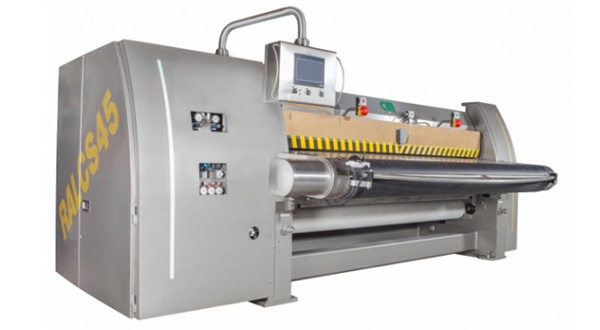 Model:RALCS45 2400-2700-3000-3200-3400
Skin Category: Half Calf - Whole Bovine

Machine Type: Through feed Combined Sammying & Setting Machine
A new-generation machine with a very compact one-piece frame;
The new geometry of the rolls makes it easier to spread out and dry the skins;
Large-diameter blade cylinders, with inverter-controlled speed;
Feeding rate from 7 to 20 m/min, with three hydraulic motors;
Drying pressure 0 to 45 tons;
Independent pressure regulator on the pressure rolls;
Exclusive automatic hydraulic system for aligning the felts and the PVC belt;
The skin-spreading system of the plastic belt is provided with a pressure regulator to hold the skins tight, regardless of their thickness;
Skin-feeding and –holding roll with hydraulic motor reducer;
Automatic hydraulic device for lowering the blade roll;
Automatic greasing system working at set intervals;

Stainless steel plates and safety guards.

In addition, the machine is equipped with all the safety devices that make it perfectly comply with the applicable regulations (EC certification)
Wishing to improve the quality of its products, we reserve the right to change the specifications of our machines without notice. The starting and output specifications are approximate and reflect an average production run, and they must be adapted to the actual working conditions.
information request form
Request information for this product
All fields in bold are required.