RAL P45
code:
RAL P45
- Whole Bovine, Half Calf, Combined Sammying & Setting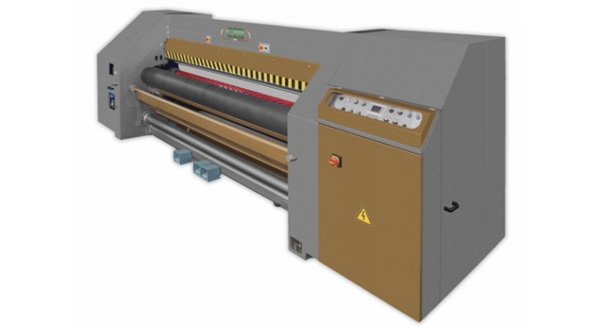 Samming and setting machine mod. RAL/P45
Samming and setting machine mod. RAL/P45
Samming and setting machine mod. RAL/P45
Model: RAL/P45 3000-3200-3400
Skin Category: Whole Bovine, Half Calf

Machine Type: Combined Sammying & Setting
Our experience in constructing tanning machinery has brought to the realization of the RAL/P45 machine, particularly suitable to process bovine full hides.

The position of the leather supporting cylinder allows a quick and easy feeding of hides, as quick and "mild" is the movement of machine open/close.
- Adjustment of distance between blade cylinder and rubber cylinder is achieved by a simple push-button device, the value of which can be read on a decimal display. The blade cylinder is equipped with a hydraulic device which allows its gradual approach to the hide during closing stage, its quick removal and gradual approach during reversal stage. Such device can be used according to everyone's requirement, it allows to avoid possible marks on the leather which could be caused by the blades cylinder during above mentioned working stages.
- The stretching cylinder is independent and turns in the opposite direction to leather feeding, with adjustable speed.
- The two sammying rollers have independent sammying pressures. The sammying pressure can be adjusted by a hydraulic device placed on the machine side (sammying pressure goes from 3 to 45 tons per each cylinder).
- Leather feeding can be adjusted by a hydraulic device, up to 34 mt/min. The control device is located on the machine side and can be read on its relevant decimal display.
- Automatic felts centring device. The electric equipment is fully contained by a waterproof box, the control board is located on a suitable position, on the right side of the operator. Carter are stainless steel. The machine is equipped with a pump that allows the automatic lubrication of all rotation and moving devices of the machine.
Wishing to improve the quality of its products, we reserve the right to change the specifications of our machines without notice. The starting and output specifications are approximate and reflect an average production run, and they must be adapted to the actual working conditions.
information request form
Request information for this product
All fields in bold are required.